OVERVIEW
Villa Katarina for 1-4 people
HHalfway up above the beautiful Potami beach on the north coast of Samos lies our holiday home "Villa Katarina" – the spacious and luxurious alternative to the holiday apartment.
Villa Katarina is located just outside the original Greek town of Karlovasi, where the normal Greek everyday life can be found more than the touristy one. It is located directly above the sea in a small settlement of seven houses of the Samos-based architect and contractor Manolis Kiriazis. Manolis loves his island above all else and always builds his houses in such a way that they fit perfectly into the beautiful landscape.
And we have then equipped our house as we imagine ourselves a holiday home, and are sure that you will also feel comfortable and fall in love with this beautiful spot on earth.
NEW: In winter 2020 we have installed a new open kitchen, consisting of white marble. Furthermore, we renovated the bathroom, and now instead of the bathtub a spacious shower installed.
Hint: Villa Katarina is also gladly booked by 2 families withthe neighboring Villa Petros, because then up to nine people can go on holiday together and each has his own kingdom.
BOOKING HERE
ADVICE
Phone: +49 6151 891101
Great views of Potami beach

MY SAMOS
Villa Katarina Equipment
Division
Ground floor
Living area, dining area, kitchen
In the living area there is an additional bed, so that you can also inhabit the house as a family of five.
Floor
Two bedrooms with 2 large double beds (1.80m x 2,00m) and bathroom with shower
Veranda
Covered veranda with seats and loungers
Facilities
Refrigerator with freezer compartment
A veranda with such a view is rarely found.
When you stand on the veranda, you have an undisturbed view of the sea, Potami beach and at night the incredibly starry sky.
Down to the beach it is 5 minutes by car and 10 minutes walk.
.. but you also enjoy staying at home and either sitting in the sun on the veranda ….
.. or you can make yourself comfortable on the seating group under the canopy, if you prefer to read in the cooling shade.
The ground floor of the holiday home consists of a combination of living and dining area and the kitchen.
In the living area there is a comfortable seating group made of pasture and a lounger which can also be used as a 5th bed if required.
Here you can really sit very comfortably.
Some beautiful paintings by the painter Peter Müller will delight your senses.
On hot days it is pleasantly tempered in the typical Greek house.
And when it gets cooler in the spring or autumn evening, you can light the small fireplace and quickly it gets warm, so that you can spend a cosy evening with good books or games.
Some travel guides about Samos and books are on the shelf and are also available to our guests.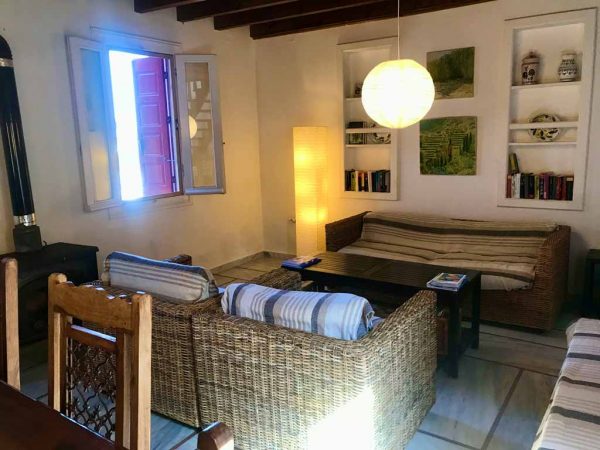 The floor on the entire ground floor is made of light marble, which creates a pleasant coolness in summer.
The large massive table with the matching chairs invites you to cosy games evenings or to a homemade Greek menu.
You rarely need it, but once it's necessary in autumn or spring, you're happy to have it. You can turn on the wood-burning stove, which makes the whole room warm and totally comfortable in a very short time.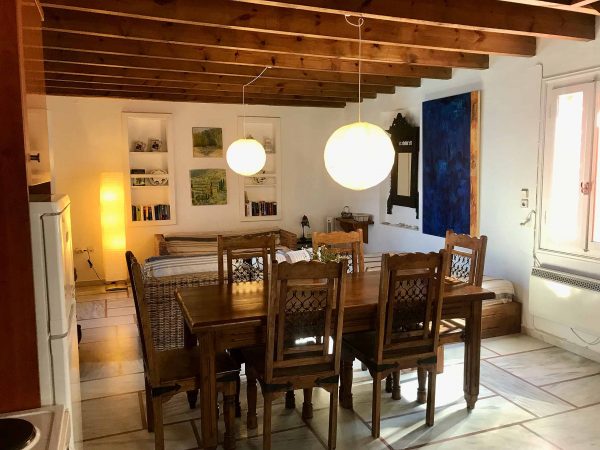 The fully equipped kitchen has everything you need for a comfortable holiday.
Dishwasher
Stove with oven
Refrigerator with large freezer compartment
Coffee maker
Toaster
Kettle
Complete tableware
Washing machine
This winter we have installed a brand new open marble kitchen.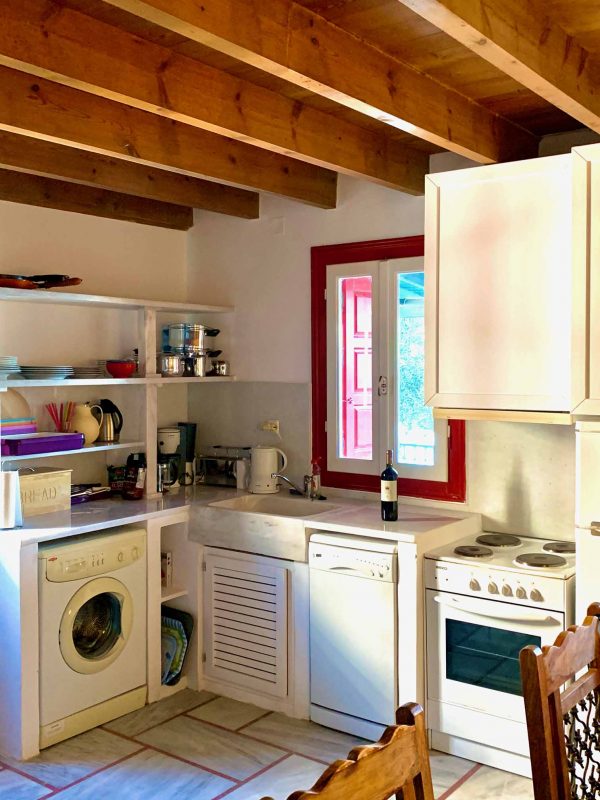 Bedroom 1
Upstairs are the two bedrooms and the bathroom.
All three rooms have views of the sea
The floor consists of a beautiful, warm wooden floorboard
The bedrooms are each equipped with a large solid wooden double bed, the matching night cupboard and a large wardrobe – with enough storage space and many hangers.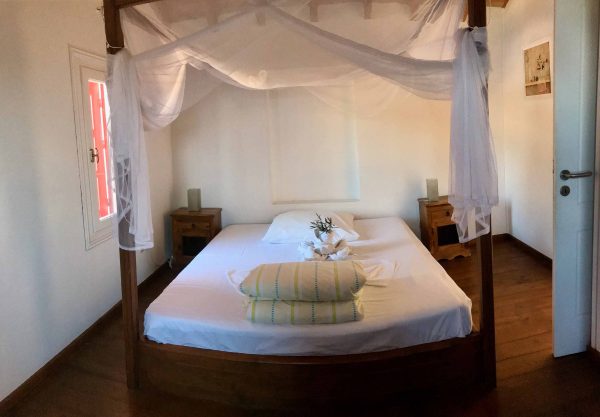 Bedroom 2
The second bedroom is also furnished with a beautiful solid four-poster bed.
From the window you have a fantastic view of the beach and the sea.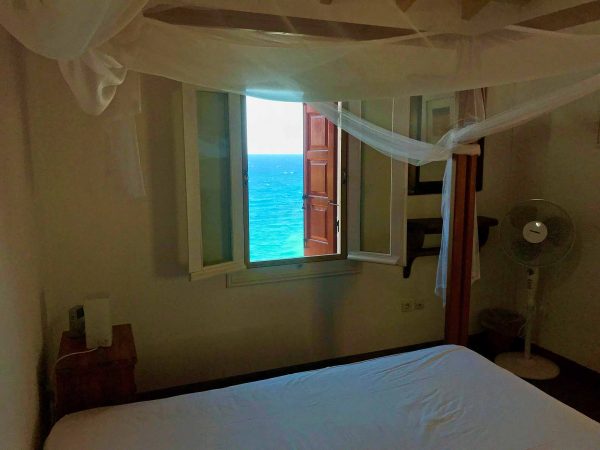 The bathroom has been completely renovated, and now we have installed a comfortable shower with glass separation. In addition, there is a new shower valve with a large head shower and an additional smaller hand shower.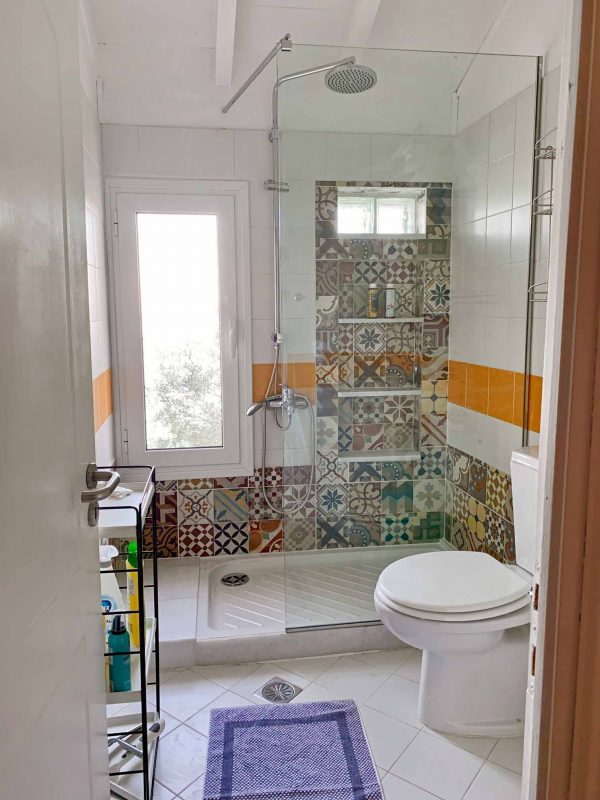 A hair dryer is also available.
And last but not least:
A new larger window has been installed, and they have a view on the quiet place, like almost nowhere else in the world: 😉
That's him: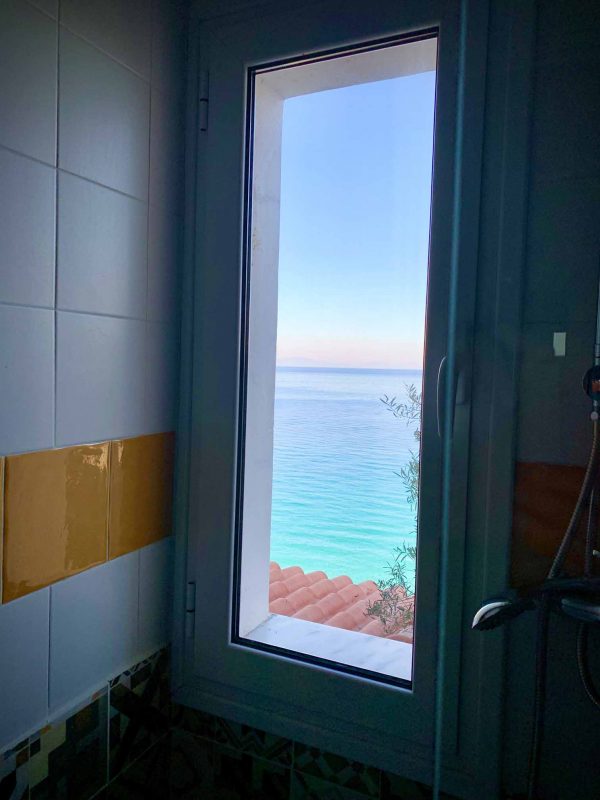 Prices
Prices in EUR
Winter season
Low season
Season
01.11.22-30.04.23
01.11.23-31.12.23
01.10.22-31.10.22
01.05.23-31.05.23
01.10.23-31.10.23
01.09.22-30.09.22
01.06.23-30.09.23
Weekly price / Villa
560
760
860
Plus. Electricity / Week
100
75
75
Plus. Final cleaning 1 x
145
145
145
Optional: additional. Linen package p. P.
20
20
20
Minimum stay 1 week. Prices incl. one-time bed linen and towels, excl. Electricity and one-time final cleaning.
If you are interested in a booking or have any other question about Samos, please feel free to contact us or send us an e-mail and send to us your booking requests or other questions about our house. Please let us know your phone number or email address. We will contact you.

Very nice holiday home equipped with all necessary comforts high above Potami Bay. Especially…
"A cozy house with a fantastic view from all rooms and the terrace to the sea and Potami beach. To everyone…"
If you want to book or have any questions, please feel free to contact us
Just click here on the button
CONTACT / BOOKING

OUR VILLAS
Discover more villas