OVERVIEW
Luxury Villa Elise for 1-4 people
With the construction of Villa Margarete and Villa Elise we have fulfilled the dream of our lives for ourselves. A house at the sea, built according to own plans 2018-2020, designed from wonderful materials by builder Manolis Kiriazis, unique and luxurious. A beautiful veranda offers a view of the Aegean Sea, which is unparalleled all over the island. Villa Elise is located at the highest place of all our houses and the view of the sea is breathtaking.
This luxurious house is also a highlight of our offer and is a great holiday home in the incomparable location above the Potami beach. The house has a living room with open kitchen and fireplace, a beautiful bedroom with side sea views, a luxurious bathroom on the ground floor and a gallery with a second large bed and another bathroom. It is suitable for 1-4 people.
The entire house has a marble floor, and the bathrooms are also completely made by finest marble.
BOOKING HERE
ADVICE
Phone: +49 6151 891101
May/June 2021
from € 144,- Rent per day per holiday home

MY SAMOS
Villa Elise Amenities
Division
Ground floor
Living area with open fireplace, open kitchen area, dining table, bedroom large double bed (1.60m x 2,00m), bathroom with shower
Floor
Gallery with large double bed (1.60m x 2,00m), bathroom with shower
Veranda
Veranda with great views of the Aegean Sea , approx. 5.0 m x 2.80 m
Facilities
Stove with glass hob and oven

Refrigerator with freezer and ice cube maker

Bosch coffee maker and Bodum "Push" coffee maker

Free Internet Wi-Fi, indoor and outdoor

Parking directly at the house
Porch
The view over the sea
The view from Villa Elise is the most impressive of all the houses. It is also higher than the others.
High above the Aegean Sea, one looks into the distance and has a dreamlike view of the open sea with a thousand different shades of blue and green.
On clear days you can see close to the coast of Turkey, and at night the lights of several Turkish coastal towns.
The entire veranda is covered and thus protects against the blazing sun, or even from it when it rains once in spring or autumn.
The living room with open kitchen and dining table is the central space of your holiday. Here we cook, eat, play, talk and rest. The large height and the open ceiling beams underline the generosity of the house. During the transition periods or in winter, the open fireplace is a guarantee of cosiness. In addition, everywhere from the room you have a fabulous view of the blue sea and with clear views of the coast of Turkey through the very large sliding doors to the veranda. Your view will not be obstructed, because we have had the railing of the veranda made of high-quality safety glass.
At the time of the photo, the seating group we commissioned from Manos, our carpenter from Samos, was not yet ready. But it will be an original samiotic sofa and armchair made of solid solid wood, on which you can comfortably spend your evening. Look forward to it.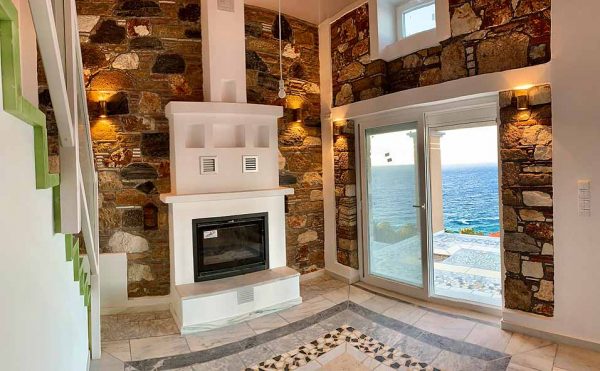 The completely new equipped marble kitchen has everything you need for a comfortable holiday:
Dishwasher
Stove with oven and extractor
Refrigerator with large freezer and ice cube maker
Coffee maker
Toaster
Kettle
Complete tableware
Knife block with new sharp knives
And of course there are also all the other utensils with which you can prepare a great meal.
You can then have them with your family at our heavy solid wooden table, which our carpenter Manos has made for us.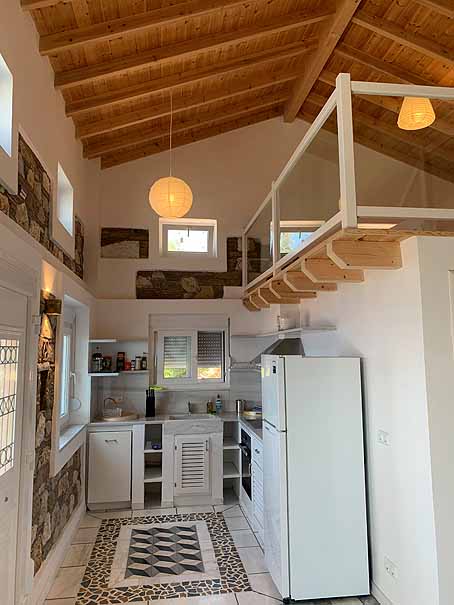 Bedroom
One bedroom is located on the ground floor and has a bed of approx. 160 x 200 cm. The bedroom is totally cozy and quiet, and through the window you have a side view to the sea. There is enough space for your stuff. the cupboard of the carpenter is very large and contains enough space for hanging and lying down.
We sent the really great mattresses from Bett1.de to Greece by post, because we are so enthusiastic about them at home. You will have a very good and sleep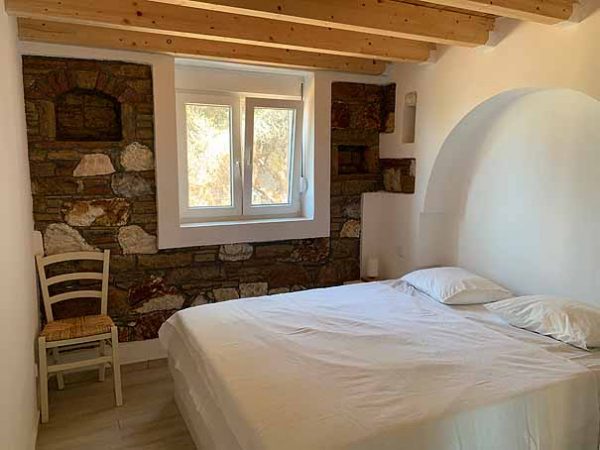 There are two luxurious bathrooms in the house. The one, large bathroom is located on the ground floor right next to the lower bedroom, the second, slightly smaller bathroom is on the first floor on the gallery and so the guests who use the bed on the gallery have their own complete bathroom.
Both bathrooms are clad in high-quality, beautiful Greek grey-melted marble on the floor and walls. They each include a toilet and a shower, which is also equipped with a swell shower. The lower bathroom still has a large sink and the washing machine is housed here.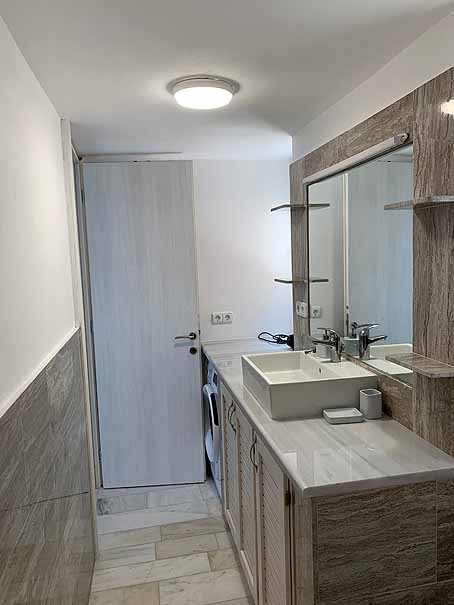 On the gallery, which can be reached from the living room via an open wooden staircase, is the second bedroom, it also has a bed of about 160 x 200 cm. The bedroom is very spacious but also very cozy because it is open. Through the windows you have a view of the sea. There is enough space for your stuff. The cupboard of the carpenter is big enough.
We sent the really great mattresses from Bett1.de to Greece by post, because we are so enthusiastic about them at home. They will sleep, as in Abraham's womb.
And upstairs is a second private bathroom, so that you also feel very comfortable here with four people.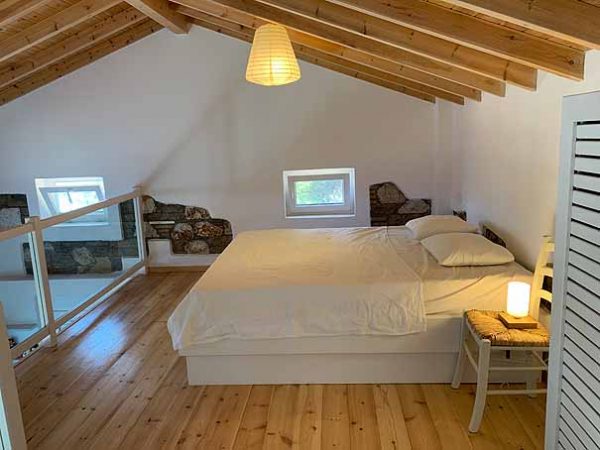 The covered veranda has a tavern table with matching chairs where you can enjoy your meal with an insane view of the open sea.
Also two cozy precious wood loungers are, as s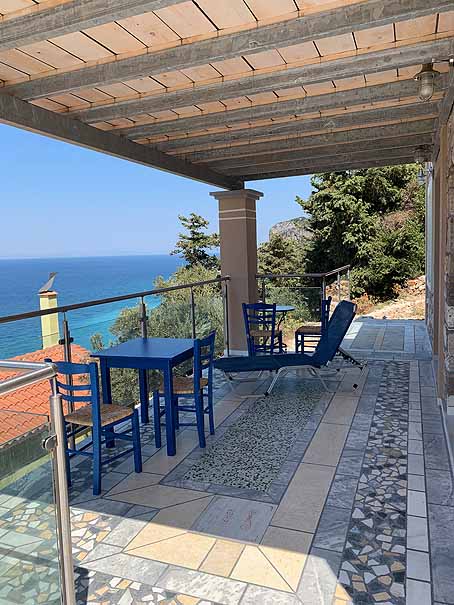 o that you can relax excellently.
Since the house is oriented to the northeast and has the mountains of Potami in the back, the temperatures here are also very pleasant, and not too hot.
Prices
Prices in €
Winter season
Preseason
Low season
High season
01.11.20-31.03.21
01.11.21-31.03.22
01.04.21-30.04.21
01.05.21-21.06.21
21.09.21-31.10.21
22.06.21-20.09.21
Weekly price / Villa
610
810
1010
1110
Plus. Electricity / Week
100
75
60
60
Plus. Final cleaning 1 x
85
85
85
85
Optional linen change p. P.
15
15
15
15
Minimum stay 1 week. Weekly prices incl. Bed linen, towels, water, plus Electricity and one-time final cleaning.
If you are interested in a booking or have any other question about Samos, please feel free to contact us or send us an e-mail and send to us your booking requests or other questions about our house. Please let us know your phone number or email address. We will contact you.
If you want to book or have any questions, please feel free to contact us
Just click here on the button
CONTACT / BOOKING

OUR VILLAS
Discover all villas